Skip Global navigation and goto content
It's a New Day in Public Health.
The Florida Department of Health works to protect, promote & improve the health of all people in Florida through integrated state, county & community efforts.
Skip MegaMenu and goto content
On-Site Sewage Disposal
Florida Department of Health in St. Johns County Environmental Public Health Program
 

Fax

904-428-5659
 

Mailing Address

4040 Lewis Speedway 

St. Augustine, FL, 32084  

 
Welcome to the Onsite Sewage Treatment and Disposal Systems (OSTDS) Program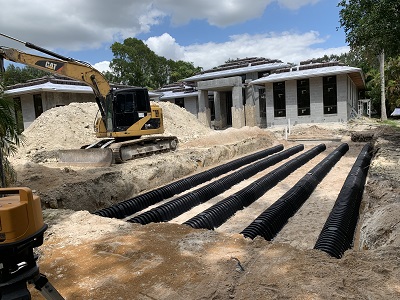 Septic Systems provide a viable wastewater treatment and disposal option for residential and commercial applications when central sewerage service is not available.
Properly operating Septic Systems (Septic tank, pumps and septic drainfield) are vital to the protection of surface water and water wells.
The goal of this Environmental Public Health program is to ensure that all new and/or repaired septic systems will meet the design and construction requirements of Chapter 64E-6 Florida Administrative Code.
With this goal in mind, this Environmental Public Health Service Center provides assistance with regards to system location, placement, sizing, and vertical separation from the water table as well as existing structures.
The following information may be required at a minimum for septic system applications: completed application, soil profile descriptions, two copies of site plans and two copies of floor plans. Please be sure to call for more information specific to your project. Activities conducted by this office include:
Septic System Construction Permits & Inspections
Septic System Abandonment Permits & Inspections
Development Consultation & Plan Reviews
Pump Truck Licensing & Inspections
Land Application Site Inspections
Nuisance Complaint Investigations
Aerobic Treatment System Permitting
Tank Manufacturing Permits & Inspections
Performance Based Treatment System Permitting & Inspections
Commercial and Industrial Operating Permits and Inspections
Onsite Sewage and COVID-19
Permit & Service Fee's
Forms
Statutes and Administrative Codes
For Homebuyer's
Helpful Links

For more information on COVID-19 and onsite sewage see:
---
Onsite Sewage and COVID-19
March 27, 2020
Background:
Risk of transmission of COVID-19 from sewage or the feces of an infected person is expected to be low, based on outbreaks of similar viruses. As of the date of this guidance, there have not been any reports of fecal-oral transmission of COVID-19, and there is no evidence that the virus has been transmitted via sewerage systems, with or without disinfection.
According to the Environmental Protection Agency (EPA), when properly managed and sited, a septic system is expected to treat COVID-19 the same way it safely manages other viruses often found in wastewater.
There are currently no recommended specific precautions for COVID-19 for employees involved in wastewater management.
Recommendations:
Workers should use the same basic disease prevention practices that they should already be using to reduce health risks from other disease-causing organisms. Septic tank contractors can find more information about safe work practices at www.fowaonsite.com .
County health department staff are advised to practice social distancing(such as keeping six feet distance from other persons) in all work areas.
County Health Department Onsite Sewage Treatment, Disposal and System(OSTDS) Services:
As of the date of this guidance, Department OSTDS staff will:o

Provide on-demand services. These include:

Construction (i.e., system repairs, new, and modifications) site-evaluations, permits, inspections, and re-inspections;
operating or service permits(only initial inspections/pending inspections); and
complaint investigations.

Postpone routine inspections that are not on-demand services, such as annual inspections for operating permits and service permits.

Local office or staff quarantines may impact services.
Note: This information on COVID-19 and wastewater is based on guidance developed by the World Health Organization, the Centers for Disease Control, OSHA, US EPA, the Virginia Department of Health and the University of Minnesota Water Resources Center.
Information on Permit & Service Fee's is available by calling this Service Center.
NOTE: Effective July 1, 2021, DEP is responsible for implementing the Florida Statutes and regulations applicable to OSTDS. Under Florida's Clean Waterways Act of 2020, the county health department offices will continue to do the permitting and inspection for septic tanks; please continue to work with them for all of your permitting-related needs. Please email DEP with questions about ALL Forms, mailing addresses, and anything else related to the program.
Chapter 64E-6 (PDF, 921k) , Florida Administrative Code & Standards for Onsite Sewage Treatment and Disposal Systems
Hard copies are also available for review at this Service Center.
If the home you are buying is on a septic system, you should request a voluntary inspection and assessment of the system. See more details below.
Note: This page contains materials in the Portable Document Format (PDF). The free Adobe Reader may be required to view these files.