Skip Global navigation and goto content
WIC - Women, Infants, and Children
Florida Department of Health - St. Johns County
 

Mailing Address

200 San Sebastian View 

 

Saint Augustine, Florida 32084 
Services Available:
WIC is a nutrition program for low to moderate income women who are pregnant or breastfeeding or who have recently been pregnant, infants and children under the age of 5 years. WIC provides the following services:
Healthy foods
Nutrition education and counseling
Breastfeeding support
Referrals to health care, immunizations and community services
WIC Electronic Benefit Transfer (EBT) Cards
Breastfeeding and Formula
Who is Eligible for WIC?
How do I apply for WIC?
What is the Cost?
Is an Appointment Required?
What are the Office Hours?
What should I bring with me?
Questions?
Non-discrimination Statement
Helpful Links
The WIC program provides Electronic Benefit Transfer (EBT) cards for free food to use at local grocery stores.  Grocery shopping is smart and easy with the WIC EBT card, and you can choose how little or how much you want to buy each time you shop with your WIC EBT card.  WIC food packages typically include:
  Low   fat milk
  Cheese
  Eggs
  Juice
  Cereal
  Whole   grains
  Peanut   butter
  Fruits   and vegetables
  Low-Fat yogurt
WIC food packages promote and support the establishment of successful and long-term breastfeeding. Monthly Breastfeeding Support Socials are held at Flagler Health Wellness Center. Breastfeeding is the best choice for baby, however, when breastfeeding does not prove to be the best choice for Mom, infant formula can be provided.  The formulas that WIC currently provides include:
  Enfamil   Infant
  Enfamil   Gentlease
  Enfamil   AR
  Enfamil   Reguline
  Similac   Soy Isomil
To be eligible for WIC you must be a current Florida resident, be at nutritional risk and be income eligible.  Many working parents are eligible for WIC. 
Call the DOH-St. Johns WIC Office at 904-209-3250 (Select menu option 5), to make an appointment.
WIC services are provided at no cost.
Yes, please.  In order to best serve you, we ask that you make an appointment by calling 904-209-3250 (Select menu option 5).
Monday – Friday – 8:00 a.m. – 11:00 a.m. and 1:00 p.m. – 4:00 p.m.
Each family member who is applying for WIC benefits must come to the appointment.
One form of identification for you and each infant or child applying for WIC benefits.  Forms of identification include a birth certificate, crib card, hospital birth certificate, driver's license, military ID, photo ID, or a social security card.
Proof of ALL income for everyone in the household (before taxes and deductions) must be provided OR bring proof of Medicaid, Temporary Cash Assistance, or food stamps.
Proof of where you live.  Items that are allowed include a utility bill, bank/insurance statement, pay stub or driver's license.  You must be currently living in Florida, but you do not have to be a U.S. citizen.
Social security cards, if available.
Immunization records for each infant and child applying for WIC benefits, if available.
We are here to help!  If you have any questions, please call us at 904-209-3250 (Select menu option 5).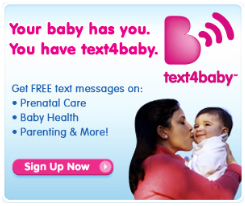 Text4baby is a free service to help keep you and your baby healthy.
---
Click here to review WIC Eligibility Information.
---
For more information about WIC, please visit the Florida Department of Health – WIC website.
---
Florida Health CHARTS - Florida Community Health Assessment Resource Tool Set
Note: This page contains materials in the Portable Document Format (PDF). The free

Adobe Reader

may be required to view these files.