Skip Global navigation and goto content
School-Based Sealant Program
Florida Department of Health - St. Johns County
 

Mailing Address

200 San Sebastian View 

 

Saint Augustine, Florida 32084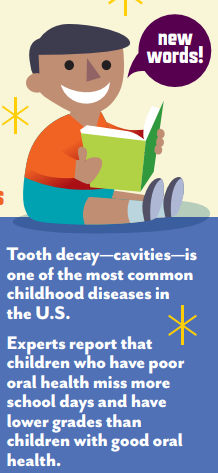 The Public Health Dental Program's Sealing Sunny Smiles Across Florida initiative is part of a statewide oral health plan to promote evidence-based prevention strategies in order to achieve optimal oral health for all Floridians.
Dental Sealants —
Keep children healthy & Ready to learn.


Dental sealants are the most effective way of preventing tooth decay, or cavities, in permanent molars, where more than 80% of decay occurs in the permanent teeth of children. The deep grooves and fissures of the molars allow decay to occur deep within the tooth structure where fluoride is less effective. Sealants are thin coatings applied to the tooth surface, which can help stop this decay from happening.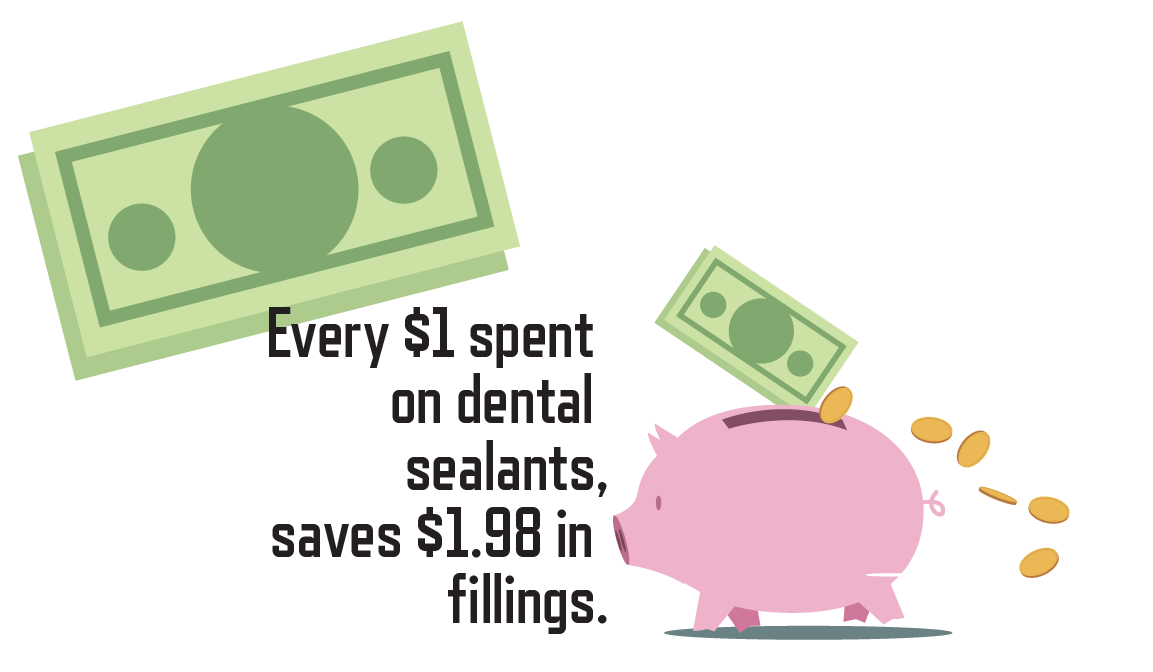 Dental sealants are cost effective. Every $1 invested in dental sealants applied by dental programs yields $1.98 in dental treatment savings.
Tooth Decay: The Problem
Dental Sealants: The Solution
Prevention vs. Treatment: The Cost
Frequently Asked Questions
Tooth decay is the single most common chronic childhood disease.1
Florida data reveal that approximately 1 in 4 (25.1%) third grade children aged 5 to 11 years have untreated tooth decay (caries).2  Untreated tooth decay is higher for racial and ethnic minorities and children from low-income families. These children are less likely to receive preventive dental care.
Untreated tooth decay is painful and keeps children from school. Children with poor oral health are three times more likely to miss school due to oral health problems.3  Pain and infection from caries, toothaches, and abscesses can also affect children's ability to focus in school.4  Annually 34.4 million school hours are missed by students due to acute and unplanned dental care.5 
Caries-related Emergency Department (ED) visits in Florida totaled 23,165 for children ages 0–20 during 2017. The charges associated with these 23,165 visits totaled $41,604,001.6
---
Florida Office of Communications
Dental Sealants (July 31, 2019)
Dye, B., Xianfen, L., & Beltran-Aguilar, E. (2012). Selected Oral Health Indicators in the United States 2005-2008. Hyattsville, MD: National Center for Health Statistics.

Florida Department of Health. Florida Third Grade Surveillance, 2016–2017

Jackson, S., Vann, W., Kotch, J., Patel, B., & Lee, J. (2011). Impact of Poor Oral Health on Children's School Attendance and Performance. American Journal of Public Health, 1900–1906.

The PEW Center on States. (2010). The Cost of Delay: State Dental Policies Fail One in Five Children. Washington, D.C. Retrieved from www.pewtrusts.org/~/media/legacy/uploadedfiles/ costofdelaywebpdf.pdf

Naavaal, S., & Kelekar, U. (2018). School Hours Lost Due to Acute/Unplanned Dental Care. Health Behavior and Policy Review, 5(2), 66-73. doi:10.14485/hbpr.5.2.7

Emergency Department Discharge Data, Florida Agency for Health Care Administration (AHCA), as of August 2017. Analysis conducted by Scott Tomar, DMD, DrPH, University of Florida.
Dental sealants effectively reduce tooth decay in children.
Dental sealants are thin plastic coatings applied to the grooves on the chewing surfaces of the back teeth.7 This protection against tooth decay reduces caries incidence over time: 86.0% (year one), 78.6% (year two)8, and 73% (year three).9
---
Florida Office of Communications
Dental Sealants (July 31, 2019)
7.  Centers for Disease Control and Prevention. (2013). Dental Sealants. Retrieved October 19, 2015 from: www.cdc.gov/oralhealth/publications/faqs/sealants.htm
8.  Beauchamp, J., Caufield, P. W., Crall, J. J., Donly, K., Feigal, R., Gooch, B., & Simonsen, R. (2008). Evidence-based clinical recommendations for the use of pit-and-fissure sealants: a report of the American Dental Association Council on Scientific Affairs. The Journal of the American Dental Association, 139(3), 257–268.
9.  Wright, J. T., Crall, J. J., Fontana, M., Gillette, E. J., Nový, B. B., Dhar, V., . . . Carrasco-Labra, A. (2016). Evidence-based clinical practice guideline for the use of pit-and-fissure sealants. The Journal of the American Dental Association, 147(8). doi:10.1016/j.adaj.2016.06.001
The Florida Department of Health's Public Health Dental Program supports statewide preventive dental services through County Health Department Dental Programs.
Dental Sealants performed by locations such as DOH-St. Johns Dental Program during 2015 were analyzed for cost effectiveness by comparing the national cost estimates of receiving one dental sealant ($44.12) to one dental filling ($197.09) on an unsealed tooth.10  The cost savings over three years for 64,263 children receiving one dental sealants is more than $4,791,593.

---
Florida Office of Communications
Dental Sealants (July 31, 2019)
10. American Dental Association. (2014). Action for Dental Health: Bringing Disease Prevention into Communities. A Statement from the American Dental Association. 2013.
What colors are sealants?
Sealants may be clear, white, or tinted. Most people will not be able to see the sealant when a child smiles or talks.
Which teeth are sealed?
Back teeth, including molars and premolars, help us chew our food and may be sealed. These teeth must last a lifetime.
When should teeth be sealed?
A sealant needs to be placed as soon as permanent molars appear in the mouth. Start looking for permanent teeth when the child is 5 years old.
How are sealants applied?
It is very easy to do! First, teeth are cleaned to remove plaque and food debris. Next, a gel is applied on the chewing surface and then rinsed out with water. The tooth is dried and the sealant is painted on the grooves of the teeth. A special light is used to harden the sealant. 
Who applies the dental sealant?
A licensed or certified dental professional may provide dental sealants. Sealants can be placed by professionals at Florida Department of Health dental clinics in your county, school-based sealant programs, or at local dental offices.
Will insurance pay for dental sealants?
Most insurance plans cover the cost of sealants for children. Contact your insurance provider for specific coverage details.
*Note: This page contains materials in the Portable Document Format (PDF). The free Adobe Reader may be required to view these files.