skip to content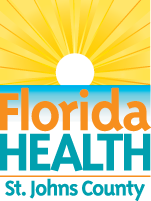 It's a New Day in Public Health.
The Florida Department of Health works to protect, promote & improve the health of all people in Florida through integrated state, county, & community efforts.
skip to content
Welcome to DOH - St. Johns
Florida Department of Health - St. Johns County
 

Mailing Address

200 San Sebastian View 

 

Saint Augustine, Florida 32084 
Your Center of Excellence in Public Health!  
Distinguished Recipient of:
2009 / 2015 Florida Governor's Sterling Award
2011 / 2017 Florida Governor's Sterling Award for Sustained Performance Excellence
The Department of Health in St. Johns County (DOH-St. Johns) is the leader of the Public Health System. What is Public Health and what is the Public Health System?  Public Health addresses the root causes of disease and the requirements for keeping the population healthy.  It aims to achieve community health in a way that respects the rights of individuals in the local community.  The Public Health System is the local, state, federal, and international agencies, organizations, and staff that provide public health services.
Unlike traditional health care, the Public Health System's focus is on our population as a whole and not specifically on individual health.  We are focused on prevention of infectious diseases that can affect the health of our population, such as, measles and flu; promotion of healthy choices and lifestyles, such as, smoking cessation and proper nutrition; and personal responsibility of our citizens by educating and informing them on the role each of us has in our own and our community's health.
The Public Health System benefits us all.  Public health has ensured we live longer, healthier lives.  In the last 100 years, our life expectancy has increased by 30 years.  Small Pox has been eliminated.  Many other serious and often fatal diseases are controlled by childhood immunizations (every $1 spent in childhood immunizations saves lives and saves over $25 in healthcare costs).  We have identified both the healthy and unhealthy behaviors that have the largest impact on our lives (every $1 spent on health promotion results in longer, healthier lives and results in $3.48 in reduced healthcare cost and $5.82 in reduced absenteeism cost).  We have safe drinking water and sanitary communities.
Public Health is ROI (Return on Investment), no matter the academic curriculum or industry, you can find always find the "golden thread" to Public Health.   
Some examples of the many fields of public health:
Scientists and researchers
First responders
Restaurant inspectors
Health educators
Community planners
Social workers
Epidemiologists
Public health physicians
Nutritionists
Public health nurses
Occupational health and safety professionals
Public policymakers
Sanitarians
Information on the U.S. Public Health Service  Overseen by the Surgeon General, the U.S. Public Health Service Commissioned Corps is a diverse team of more than 6,700 highly qualified, public health professionals. Driven by a passion to serve the underserved, these men and women fill essential public health leadership and clinical service roles with the Nation's Federal Government agencies.  For information please visit Environmental Health and the US Public Health Service.
What does your Public Health department (DOH-St. Johns) do for you?
Prevention and treatment of infectious diseases: such as, HIV/AIDS, seasonal and pandemic flu, childhood immunizations, sexually transmitted diseases, and Tuberculosis.
Reportable disease investigation, control and prevention.
Monitoring and regulation of environmental health, such as, onsite sewage treatment and disposal systems, drinking water/wells, chemical hazards, food-borne illnesses, and mosquito-borne illnesses.
Prevention and control of chronic diseases: such as, diabetes, heart disease, and asthma.
Collaborating with local agencies to link people to needed health services providing Family Planning, WIC, and Healthy Start services.
Planning and responding to natural and man made disasters - such as, hurricanes, pandemic flu, toxic spills, and bio-terrorism.     
In 2004, FDOH - St Johns embarked on a Journey of Continuous Quality Improvement, embracing the Baldrige / Sterling Management Model to pursue Organizational Performance Excellence. The National Baldrige Criteria for Performance Excellence provides a framework for our Agency to ensure fiscal sustainability through improved efficiencies, via continuous quality improvement. I am pleased to share that DOH – St. Johns is a four time recipient of the Governor's Sterling Award and Governor's Sterling Sustained Performance Excellence Award.
The cornerstone of your local Public Health Department is your public health workforce.  DOH-St. John's outstanding workforce gives us the ability to respond to an anthrax attack, an H1N1 Influenza pandemic, an increase in drug resistant Tuberculosis, emerging Ebola or Zika threats and other public health emergencies.  Remember, a strong Public Health System saves lives!
We humbly serve!